For Pets
Immunity is crucial for the health of dogs and cats as well.
The diseases of pets due to immune depression are increasing.


Recently the unknown causes of diseases or incurable illnesses of dogs and cats is increasing.
Allergies caused by immune deficiency : cancer due to immune depression. Dogs and cats suffering from chronic diseases such as heart disease, diabetes, liver disease, kidney disease is drastically increasing.
Dogs don't' get better even if medicine is taken.
The same symptoms recur even after recovering once.
Dogs become drug dependent through taking medicine for a long time.
There are a lot of pets with immune depression.
In Japan there are over 24,000,000 dogs and cats : more than children under 15 years old.
Nowadays people consider pets as life partners so the cause of a pet's death is changing and lifestyle-related diseases are increasing.
Lifestyle-related diseases such as diabetes, cancer and kidney diseases, account for 70% of the cause of pets' death.
The number one cause of dogs and cats' death is cancer.
Although a lot of dogs and cats die of cancer, the causes are not determined like in the case of humans.
It is not possible to determine the cause of cancer because the cause is the accumulation of many tiny factors.
The pollution of the environment and our life-style are instrumental in causing dogs and cats to suffer from cancer.
Since a pet's body is smaller than humans, it is more influenced by cancer factors such as contaminated drinking water, processed food, air contamination or any chemical substance. Also living with humans a pet experiences stress and tends to suffer life-style disease like a human.
Let's give dogs and cats have more immunity.
Balance- alpha is a completely additive-free supplement.
※The recommended dose for a dog or cat is more than 1ml per kg of its weight for health maintenance purpose.
Please make good use of Balance-alpha to strengthen the immune system of your pet. Balance-alpha is recommended by veterinary clinics which adopt medical treatments gentle to pets bodies such as nature cure.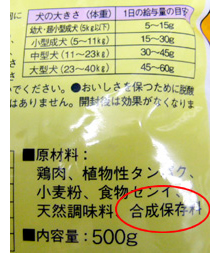 Protect your pet from the dangers to its health and even death caused by strong medicine with side effects, pet foods with additives like antioxidants and preservatives.
We have never promoted our completely additive-free supplement Balance-alpha as a supplement for pets.
However providing a questionnaire to the users we got to know that quite a large number of customers are using Balance-α as a remedy supplement purpose for dogs and cats with cancer, cataracts, kidney illness or dermatologic diseases and showing good results.
It makes sense that Balance-α which helps to increase immunity and eliminate active oxygen in cells in the body can be effective for not only humans but also for dogs and cats.
The possible reason that Balance-alpha is very effective for pets like dogs and cats must be that pets are much smaller than human bodies so it will spread over their bodies easily.
Balance-alpha is a completely additive-free supplement developed in order to increase the antioxidant power of the human body and bring out "autoimmunity power" which humans have by nature.
Balance-alpha is getting popular among conscientious veterinarians who have a high level of expertise and really care for pets' health and pet shop owners, pet owners who love their pets and take care of them with high conscious for pets health because of completely additive-free ( free of antioxidant and preservative) fermented supplement made from top level natural raw materials cultivated by 100% natural farming in Japan. Its reputation is passed from mouth to mouth by such people and the number of users is increasing continuously.
Balance-alpha is a side-effect free supplement.
The reason why Balance-αhas no side effects is the enzymes of Balance-alpha which help to increase immunity are nature derived and additive-free.
Suitable for any dog regardless of the breed of dog from puppies with still low immunity systems to older dogs.
Can be used for any small animal apart from dogs and cats. It doesn't matter even if the pet licks the affected skin part where Balance-α is applied.
Can be given to dogs and cats who do not like supplements.
※Balance-alpha is not sold at pet related goods corner of DIY shops because it is a high quality additive-free 100% Japan made supplement using only natural raw materials.
※The recommended dose for dog or cat is more than 1ml per kg of its weight for health maintenance purposes
The supplement supported by veterinarians.
Animal hospitals dealing with Balance-alpha
| | |
| --- | --- |
| Anemone Animal hospital | Suwa-gun , Nagano TEL:0266-26-8718 |
| Izumi Pet Clinic | Yokohama-shi, Kanagawa TEL:045-803-8033 |
| Arling Animal Hospital | Matsudo-shi, Chiba TEL:047-703-4833 |
| Fu Animal hospital | Oume-shi, Tokyo TEL:0428-78-3735 |
| Kougo Animal hospital | Tama-shi, Tokyo TEL:042-400-7212 |
| Pet clinic Clover | Yashio-shi, Saitama TEL:048-998-5656 |
| Mori Veterinary clinic | Kitakyushu-shi,Fukuoka TEL:093-372-3666 |
| Nirayama Animal hospital | Izunokuni-shi, Shizuoka TEL:055-949-7673 |
| Amami Animal hospital | Joetsu-shi, Niigata TEL:025-530-3821 |
| Saitu Farm Animal Hospital | Kashiwa-shi, Chiba TEL:04-7172-7937 |
Balance-alpha was featured by the special issue of pet magazine "Aiken Champ"
click here>>>to see details of book